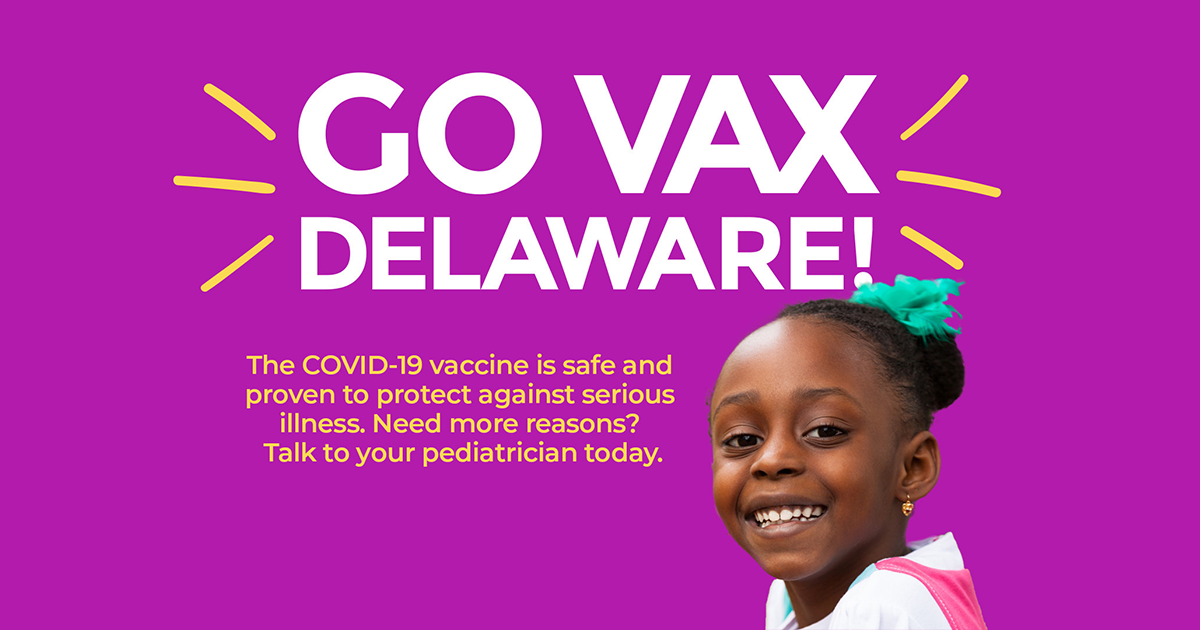 Vaccine Information for Children – Delaware Coronavirus Official Site
Currently, Pfizer-BioNTech's COVID-19 vaccine is available for youth ages 5 and older. Vaccines from Moderna and Johnson & Johnson are not yet approved for children under 18.
Vaccination of children and adolescents is important because they can become infected, be hospitalized and suffer from long-term symptoms of COVID-19.
See CDC information on:
---
What do you want to know
Children and adolescents need two doses at least 3 weeks apart (21 days apart)
Children and adolescents with weakened immune systems need 3 doses (plus a booster for ages 12 and up)
FDA and CDC say COVID-19 vaccines are safe for children and teens
Serious side effects are rare
No long-term side effects have been identified
There is no evidence that COVID-19 vaccines cause fertility problems
The risk of developing cardiac complications (myocarditis, pericarditis) is higher after having COVID-19 than after having received the vaccine
---
Where can I have my child vaccinated?
Especially with young children, DPH recommends that parents contact the pediatrician or family doctor/health care provider for vaccination. However, if the provider does not offer vaccinations, or if it is simply more convenient, families can consult our vaccine locator: Visit de.gov/getmyvaccine for a location near you
*Note: Written parental consent is required to vaccinate anyone under the age of 18, but the parent is not required to be on site with the child during the vaccination.
---
Children from 5 to 11 years old
Children aged 5 to 11 receive an age-appropriate dose of vaccine:
The pediatric dose (10 mcg) is 1/3 of the adult dose (30 mcg)
The reduction in potential side effects was one of the reasons the dosage was reduced for ages 5-11.
Addition of tri-sucrose, an inactive ingredient used in other vaccines to facilitate dilution and stabilization in the refrigerator
Trial data showed the vaccine was more than 90% protective against the development of symptomatic COVID-19 (including in children with asthma and obesity)
---
Children from 12 to 17 years old
Teenagers 12 and older get the same dose of Pfizer as adults
Teenagers 12 years and older who are relatively healthy can wait up to 8 weeks for their second dose of the vaccine
Teenagers aged 12 to 17 should receive a booster of the COVID-19 vaccine at least 5 months after receiving their first two doses.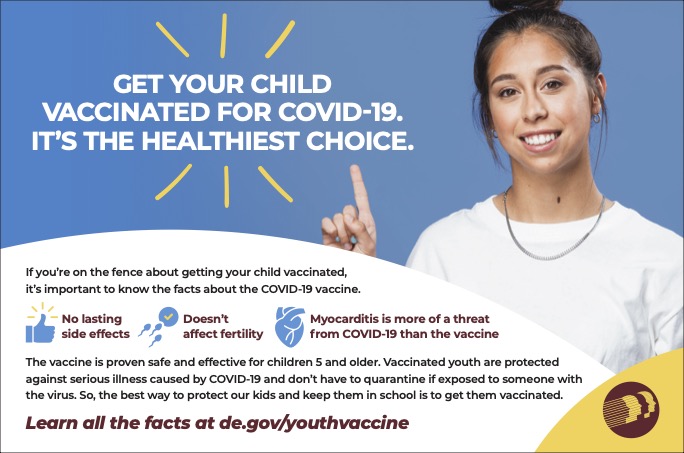 ---
Resources:
Get more COVID data
For more data on Delaware COVID cases, tests and results, including demographic breakdowns, go to My Healthy Community