Science needs the right attitude | New
For Nalinrat Guba, every discovery begins with curiosity
---
"Science" was a course you probably took in school, but the subject you studied wasn't the only thing you learned. Your science classes helped you develop a mindset, a way of problem solving, that you can still use today in any field of work.
People from a variety of academic and experiential backgrounds collaborate with researchers at the National Renewable Energy Laboratory (NREL). They have the opportunity to work with people like Nalinrat Guba, whose scientific mind is complemented by that of an artist, an athlete and a keeper. These perspectives make her a versatile and impactful member of NREL's Center for Computing Science, where clients come to achieve their goals by leveraging computer science, high performance computing, applied mathematics and advanced computing, visualization and data.
technique and improvisation
A famous quote attributed to Pablo Picasso says, "Learn the rules like a pro, so you can break them like an artist." As a ballet student, Guba knows that rules are the foundation from which creativity flourishes. Many hours of bar bends preceded his ability to do jumps and splits.
The same goes for his growth as a scientist. When she was studying statistics as an undergraduate in the early 1980s, "We worked a lot on numbers and learned statistical theory," she explained, adding, "Our studies of statistics included these new ideas called programming languages, but there were none. thing software engineering at the moment." But the mysteries of the computer world unleashed her imagination and led her to a graduate degree in computer information systems and artificial intelligence (AI). "I was obsessed with the field," she exclaims, noting that her studies sparked an intellectual curiosity that launched her into the world of big data and machine learning.
Guba has experienced the scientific transformations brought about by the digital age and she sees where the wave of ingenuity is heading. As a Research Data Systems Engineer at NREL, she helps clients solve not only the problems of today, but also the problems of tomorrow. This is where his creativity shines.
His work in data analytics and computer science combines areas such as cloud computing, database technologies, real-time data delivery, and software quality assurance, among others. His cross-sectional work can be found in the Chemical Catalysis for Bioenergy Consortium's Catalyst Property Database (CPD) project, an online library of catalyst property data that aims to make it faster and cheaper to identify the right catalyst formula. catalyst for specific biofuel production processes. The CPD currently includes adsorption energies calculated by density functional theory for surface intermediates in catalytic reactions. For this project, NREL researchers and NREL's Data, Analysis, and Visualization (DAV) group worked together to design a database system and web application that allows researchers to reduce the time required to search the literature for data on previously calculated catalytic pathways and intermediates. . By providing data in a central, searchable location, it also enables accelerated discovery of catalyst descriptor and property correlations that are a common bottleneck in applying predictive approaches to catalyst research and development. .
"I think about how to improve data systems by analyzing data to understand why it is designed in a certain way and consider alternatives," Guba said. "I really enjoy designing useful new solutions for our funders and partners."
Guba knows data management best practices and leaves room for the creative spark, whether it comes from within, from its team members, or from its client. Her approach to work isn't cookie-cutter, but that's what makes it so enjoyable for her.
"I love learning and I learn something new with every project," she said, "which is probably why I can say every project feels like a favorite project in some way."
Share your points of view
When Guba swims laps in the pool, she switches between strokes to work different muscles and change her view. She doesn't spend too much time looking in the same direction. If your data project is the pool, Guba's job is to help you figure out which combination of traits will help you achieve your goal.
"I love the challenge of solving this puzzle," she said. "You know where you want to go, so it's a matter of figuring out how and in what way it's efficient and makes sense for you."
In NREL's Computer Science Center, you'll find Guba thinking about different ways to manage data as part of the DAV Group Data Team.
If anyone needs help with data management, analysis, and visualization, they call on their team of experts to strategize and execute data collection, storage, and management. Complementary teams focused on data analysis and visualization can help you interpret data and integrate it into an immersive three-dimensional space to find hidden insights.
"I've worked on several projects that all dealt with data management differently," Guba said. "Our team's approaches to data management solutions range from using relational database management systems for scientific data to using data repositories as document centers for energetic material networks. .equipment and devices; enabling data scalability and redundancy is a common challenge that we help solve by building different infrastructures based on unique needs."
The DAV team also used the data delivery platform to collect and distribute real-time metrics and job data from NREL's high-performance computer, Eagle. These datasets are used in several energy analysis projects. The Artificial Intelligence for Data Center Operations (AIOps) project uses high-performance computing data collected through NREL's data streaming platform for data analysis and machine learning to create new solutions to maximize data center efficiency and resiliency. This project is a partnership between Hewlett Packard Enterprise (HPE) and NREL's Computational Science Center.
"Our success can be attributed to the diverse expertise of the team members, who are data scientists, data engineers, visualization experts, and system engineers," Guba remarked.
External data access requirements presented a unique challenge for the data team in how to securely release NREL data streams to HPE scientists for their models. The team explored several options and was able to determine the most efficient way to synchronize NREL data from its delivery platform to internal HPE processes.
Guba loves the investigative process behind his job as a data scientist. It's something she first noticed as a cultural phenomenon when she immigrated to the United States for her master's degree program.
"In Thailand, where I grew up, you were considered a good student if you accepted everything you were taught, but [in the United States] it's almost the opposite," Guba noted. "You are a good student if you start thinking and questioning, expressing your opinion, disagreeing. I really appreciate that mentality, even now as a professional."
Challenging herself to find the best solutions is an ideal that drew Guba to NREL and bonded her to her team.
"I always wanted to work at NREL," she said. "I work with all these smart people, all day. I'm so grateful to work with people I can learn from: my colleagues, team members and managers at all levels."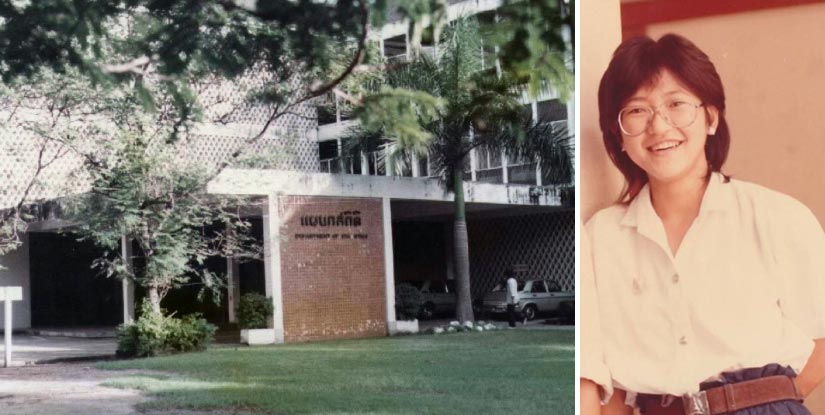 Dealing with the bias blind spot in AI
As a mother, Guba was never afraid to admit to her children that she didn't know everything. But that didn't stop her from trying to find answers. In the fast-paced world of AI advancements, Guba knows there is a degree of uncertainty and inaccuracy that needs to be resolved.
"We want to move quickly to keep pace with technology," Guba said, "but we also realize that there are several aspects of AI technology that we don't yet understand and that still need to be explored so that we can use it to its full potential."
Part of this work is creating data systems that mitigate influencing factors such as unconscious bias.
"As a human being, you have unconscious biases, whether it's the influence of your culture or your upbringing," Guba said. "It's hard to really stop and acknowledge that. But if you don't think about it, it's an unconscious bias. The same thing exists when I'm working with a system. It's easy to forget the fact that your results could be biased."
This industry-wide challenge is one that Guba actively pursues as part of NREL's broader mission to embed energy justice principles into its solutions, including conducting research to combat biases in clean energy innovation.
"It's exciting to be at the forefront of this important work, to create a clean energy future for everyone," she said. "If I can be part of the solution in some way, make even a small difference – it doesn't have to be big or public – it's deeply rewarding."
Guba is one of many NRELiens working in interdisciplinary teams in the energy sector. Learn more about collaborative opportunities within the NREL Center for Computational Science.