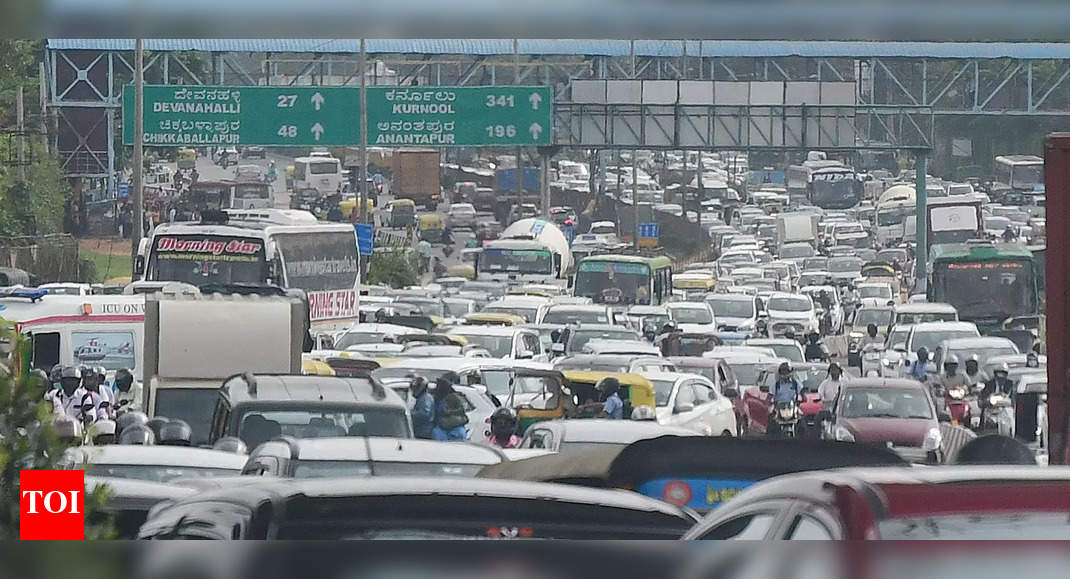 Ranked at 146 on the Global Livability Survey 2022 Index… Bengaluru's infrastructure makes life a challenge
Bengaluru scored poorly at 146 out of 173 cities across the world, according to the Global Livability Survey Index 2022. The main reason for the poor performance is the city's infrastructure, which was among the weakest in the world. Bengaluru only scored 46.4 out of 100, compared to Delhi's 62.5.
Roads, traffic, poor urban transport connectivity, sidewalks and garbage collection… the city's poor infrastructure has been in the limelight time and time again. Experts say this is not surprising, but they hope that with good civic measures in place this can change.
More power to mayors
Srinivas Alavilli, civic engagement manager at Janaagraha, says such surveys should be taken with a pinch of salt and that cities in countries like India should be compared at a micro level.

"I agree that such low rankings are a wake-up call for city officials as they need to look at the city's livability quotient. But the biggest problem in Indian cities is the absence of a strong third level of leadership. We know who the mayors of the world cities are, but here we know the prime minister and the chief minister, but nobody knows the mayors. They need more power and authority as Bengaluru alone is a city of over 730 km and 1.3 crore population. We cannot expect the CM to look into this," he shares.
40 Month PM Improvement Timeframe
Prime Minister Narendra Modi recently assured that the central and state governments will strive to improve connectivity by undertaking metro, railway, underpass, flyover and road projects to free Bengaluru from traffic jams.
He said these projects would help realize the ease of living and doing business. "I promise the people of Bengaluru that I will work hard to complete these projects in 40 months and fulfill their dreams," he said during his recent visit to the city.
All is not bad on the road ahead

Srinivas shares that the scores and standings could be different in five years. "Bengaluru has something that no other Indian metropolitan city has – ward leaders, which allows for greater citizen participation. This can help to better understand issues at the micro level. , like the subway and the commuter train, in progress. We should be able to rank better, as long as these are completed on time," he says.
Bangalore Bats For Action

A recent survey by Janaagraha revealed:

• 83% of voters in Bengaluru demanded that the BBMP elections be held based on issues such as civic and infrastructure issues and not on foreign issues

• Only 17% of respondents knew the name of the last mayor, while 97% knew the name of the PM and 83% knew the name of the CM.

• 88% have never met their ward councillor, 87% are unaware of ward committee meetings, 95% have never attended a ward committee meeting, and 22% said they have approached an MP to solve a problem. In comparison, only 12% have met with an advisor.

• 87% of voters in Bengaluru think a strong councilor would ensure better services and infrastructure in their wards

• 82% of voters in Bengaluru believe that coordination between BBMP and civic agencies such as BESCOM, BWSSB, BMTC, etc. will contribute to better governance of the city

• 23% cited pedestrian infrastructure as the most important problem, followed by 20% who cited garbage collection, 16% traffic congestion and 15% the lack of availability of drinking water.

• 89% of voters in Bengaluru are concerned about environmental issues and climate change, but only 25% of voters believe that councilors give importance to environmental issues
Where is India
City Ranking Livability Score
New Delhi 140 56.5
Mumbai 141 56.2
Chennai 142 55.8
Ahmedabad 143 55.7
Bengaluru 146 54.4
WORLDWIDE
The best
Vienna: 1
Copenhagen: 2
Zurich: 3
Calgary: 4
Vancouver: 5
The worst
Damascus: 172

Lagos: 171
Tripoli: 170
Algiers: 169
Karachi: 168