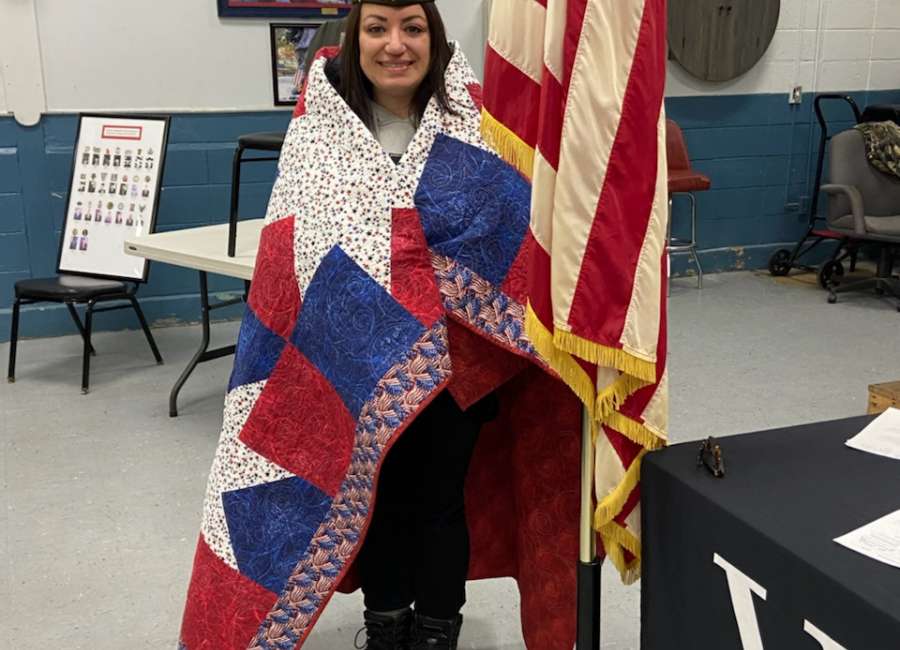 Quilts of Valor Showcased to Coweta Veterans
Photos courtesy of Barbara Pitkanen
Tara Williams
---
Six quilts were donated to veterans by Coweta County Quilts of Valor to Cowetan Veterans throughout March.
Tara Williams, David Pipham, Sharon Carpenter, Thomas Staley, James Worthy and Kenneth Osborn.
Tara Williams
Williams served in the United States Air Force from 2004 to 2012
She completed basic training at Lackland AFB, TX.
In addition, she completed: Technical training for AFSC Operations Intelligence at Goodfellow AFB, TX. RAF Molesworth, UK working for the Joint Analysis Centre. She changed command at RAF Molesworth to be the first junior airman to serve with the Intel Fusion Center alongside military representatives from all NATO forces. From there she was to Eglin AFB, FL.
She was deployed to Kabul International Airfield in 2010 in support of Operation
Lasting freedom. She was stationed at MacDill AFB, FL, went to TDY in Spain to support Operation Unified Protector, after which she separated from that duty station.
Mrs. Williams received the following award: Airman of the Year at RAF Molesworth. Double marksmanship as a staff sergeant before being deployed to Afghanistan. Joint Service Commendation and Joint Service Achievement Medals while deployed and for service in England. She received a four-star coin straight from the pocket of General David Petraeus at HQ Kabul when he was commander of ISAF, after giving her a briefing in 2010, as well as a three-star coin from the General McChrystal during the same deployment.
David Lipham
Lipham served in the US Air Force in 1967-1971.
He entered the Air Force in Amarillo, TX and went to technical school at Sheppard AFB in Texas where he trained as an aircraft mechanic. He was in Southeast Asia in 1969 and in Korea in 1970.
His medals included: Vietnam Service Medal, Korean Service Medal, National Medal, Defense Medal, Good Conduct Medal, and Marksmanship Medal.
Sharon Carpenter
Carpenter served in the United States Air Force from 1998 to 2007.
She served as an air traffic controller at Balad Air Base in Iraq as part of Operation Iraqi Freedom and served as an air traffic controller at Tasar Air Base in Hungary as part of Operation Joint Forge .
She has won the following medals: National Defense Service Medal, Iraq Campaign Medal, Global War on Terrorism Medal, Armed Forces Service Medal, NATO Medal, Air Force Expeditionary Medal with gold border, Air Force Achievement Medal, Air Force Longevity Service with 2 Oaks, Air Force Outstanding Unit Award with 1 Silver Oak and 3 Bronze Oaks, Air Force Good Conduct with 2 Oaks, the USAF NCO PME Graduate and the Air Force Training Ribbon.
She came out with the rank of E5.
Thomas Staly
Staley served in the United States Army in 1962-1964.
James Worthy
Digne served in the United States Army in 1963-1967.
He was stationed at Fort Benning, Georgia, in the 7th Cavalry Division.
Worthy has received the following medals: National Defense Service Medal, Vietnam Campaign Medal with Device 1960, Vietnam Service Medal, Good Conduct Medal (1 st Award), Marksman (Pistol 45 Caliber), Expert (Rifle M14 ), the One Overseas Bar and First Class Gunner (M-79GL)
Kenneth Osborn
Osborn served in the United States Army in 1966-1968.
His duty station was at Fort Sam Houston in San Antonio, TX. He was an instructor and medic at the 47th Combat Field Hospital, the last in the United States. He trained doctors and nurses for Vietnam. He also worked in the Napalm and Burns Unit serving those who have returned home.
Mr. Osborn was awarded the National Defense Service Medal and the Good Conduct Medal.
He was dismissed at the grade of E5.
Quilts of Valor are handmade quilts that are machine or hand-quilted by volunteers and awarded to service members or veterans who have been affected by war, according to the Quilts of Valor Foundation. Duvets are made to a specific size requirement, labelled, awarded and registered.
The Quilts of Valor Foundation was founded in 2003 by Catherine Roberts, whose son Nat was then deployed to Iraq. Roberts' vision was of teams of volunteers who would give their time, materials and expertise to comfort and thank service members and veterans for their service.
More than 298,000 Quilts of Valor have been presented since 2003, including 725 presented by Coweta County Quilts of Valor. For more information about the Quilts of Valor Foundation, visit www.qovf.org .