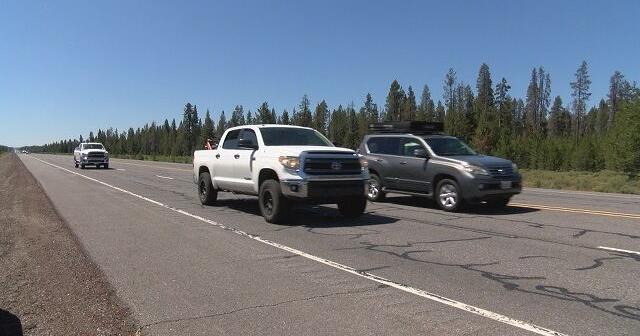 Fatal crashes on the rise in Oregon: Highway 97 is now one of Oregon's deadliest roads | Top Stories
KLAMATH FALLS, Ore – It's been a trend here in Oregon for several years. Drivers seem to be getting more aggressive and more serious and fatal vehicle crashes are occurring along major roads like US 101, I-5 and Highway 97.
According to a five-year report by the Oregon Department of Transportation, Highway 97 recorded 77 fatal crashes from 2016 to 2020, with 25 fatal crashes in 2020 alone, becoming Oregon's second deadliest road in state during this period.
During the same period, 23 fatal crashes occurred in Klamath County on Highway 97, accounting for approximately 30% of those total crashes.
"Unfortunately, in Oregon, we're seeing the same nationwide trend in fatal crashes, which is an increase," said Kacey Davey, public information manager for ODOT.
Compared to I-5, Highway 97 had two more fatal crashes during the same time period and eight more fatalities overall.
Only US 101 had more fatalities and fatalities than Highway 97 during the same period.
Looking at five years of data from this study, 2011-2015, fatal crashes from that data period only reached 52 on Interstate 97, while along I-5 the total number of fatal accidents exceeded the 70 mark.
However, there is a clear difference that sets I-5 and Highway 97 apart when it comes to the types of fatal crashes they see.
Driving along I-5, drivers can expect to be moving, for the most part, at a constant speed. In addition to this, there are multiple lanes for drivers to cross along the carriageway and there are also medians or wide gaps between north and south traffic to prevent other drivers from crossing during a accident.
Along Highway 97, this is not the case. Most of the more than 280 miles of road are single lane on each side, and drivers must constantly change gears as they pass through multiple towns.
According to ODOT records, from 2016 to 2020, Highway 97 had 28 fatal crashes because there were no median or major gaps to prevent drivers from swerving into opposing traffic. That's compared to just 4 along I-5.
With the recent spike in fatal crashes, not just along Highway 97 but across the rest of the data, ODOT officials say they are studying key areas where most of these fatal crashes are occurring along from major highways, highways and other roads.
"When we analyze the data, we rank different highway intersections…and that's where we know to focus our energy and effort," Davey said.
Just recently, Davey said ODOT crews completed a new project that created a few new miles of divided highway along Highway 97 near the Sun River. She said the new division has a wooded area, which greatly reduces cross collisions.